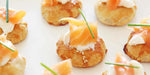 Link to video https://www.youtube.com/watch?v=7Q0qpdFfb9U
Prep Time: 10 mins
Cook Time: 15 mins
Servings: 10 
Ingredients:
15 Carnegie Deli mini knishes

1/4 lb. smoked salmon or lox (chopped in 1-inch strips)

1/2 c. sour cream

1 bunch chives (chopped in 1-inch slices) 
Directions:
First, cook the knishes to package instructions.

Next, place the knishes on a platter.

Now, add a dollop (approx. 1 tsp.) of sour cream to the center of each knish.

Next, top each dollop of sour cream with lox and then 1 chive strip on top.

Finally, dig in and enjoy it with friends & family.