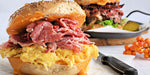 Prep Time: 10 mins
Cook Time: 15 mins
Servings: 1-2
Ingredients:
1 sesame bagel, split

2 slices American or cheddar cheese

2 eggs, fried or scrambled

1/4 lb. Carnegie Deli Corned Beef
Directions:
Place one slice of cheese on each bagel half and toast until the cheese has melted. 

Top with the eggs and heated corned beef.

Finish with the top bun and serve immediately.